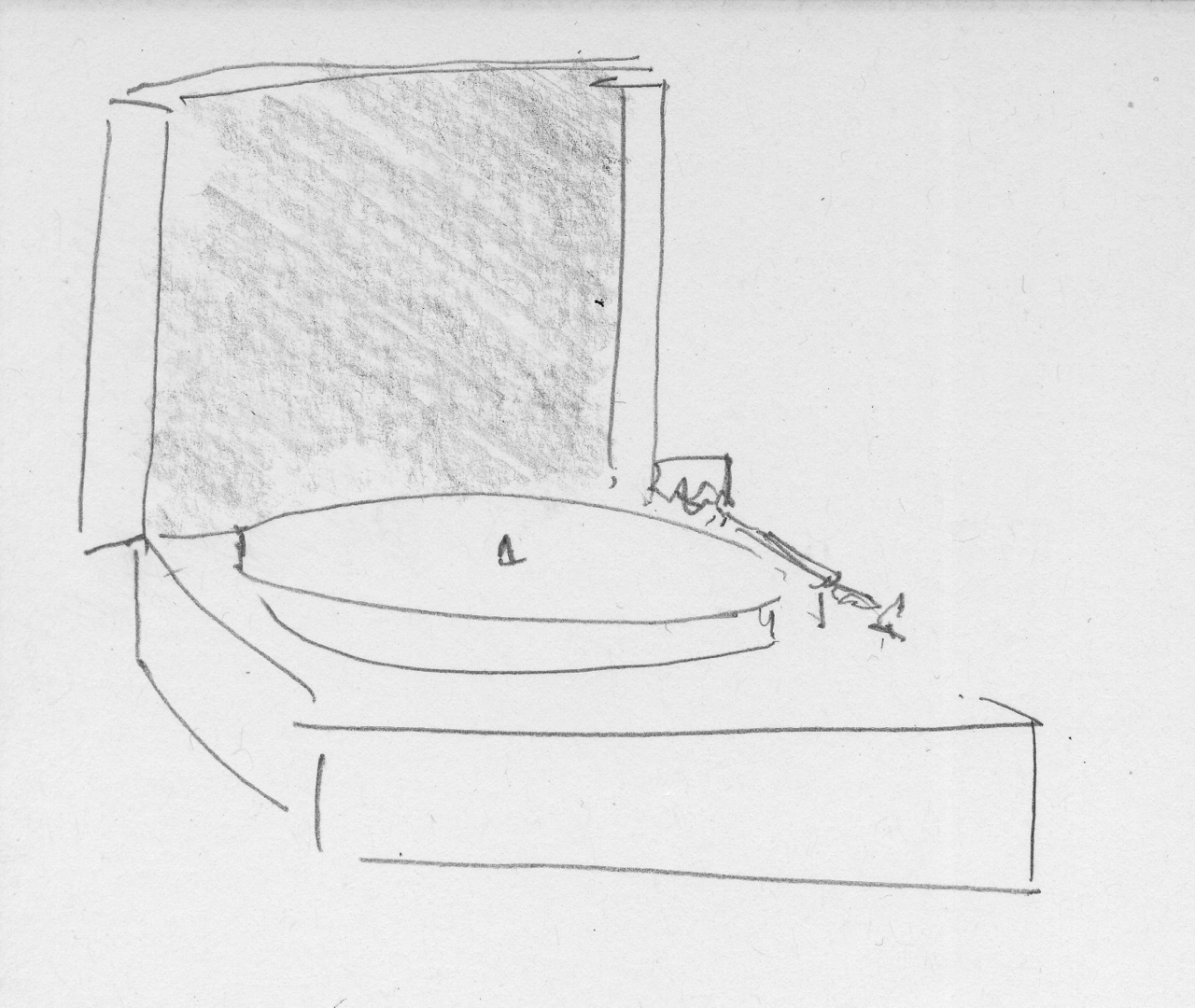 The turntable went to the shop, a place peopled by lunatics, and when finally I retrieved it I was told there had been nothing wrong with it. By some amazing chance though it came back sounding absolutely splendid, whereas it had gone in sounding awful, so whatever wasn't wrong with it benefited by not being fixed. Or something. (The lunacy, I have to say, is incidental to the turntable and its problems, real or imagined.) The import of my having the turntable back in the house in any case is that I can now play my copies of John Sangster's albums The Trip, Ahead of Hair, and The joker is wild.
I'm booked to write a paper on these albums for an upcoming issue of a top journal, and so it's back to research! for at least a part of this year. I've also, probably unwisely, booked myself a berth in the conference of the Musicological Society of Australia at the end of the year, so I've that to deal with too. It seems I go to this conference when it's in Melbourne; the last time I went was in 2008. Since I have to pay my own way it's absolutely impossible to go interstate for the meeting, and for the larger part of the time my links with musicology are mostly either historical or merely sentimental anyway. But perhaps I have something to say. Perhaps someone will come along.
I mean: my academic career, you know. What a farce. Not long ago one of Australia's Top Universities, number something-or-other in the international rankings and, well, part of our local Virginia-creeper League of increasingly impoverished tertiary institutions, advertised a lectureship for which I fancied myself eminently suited. How many research PhDs are there in Australian improvised music, held by people who compose and perform, and teach? And I've publications, and a bit of administrative experience too, having co-run the Honours year and fully run the Postgraduate Diploma one, when such things were as they were, at the VCA. Anyway, I applied, and I waited. I lined up my best and most flattering referees, and worded them up that they might be required to find something acceptable to say about me in the course of events. They are probably still waiting for the phone to ring. Because do you think I was invited for an interview? I was not.
Now this is not the first time this has happened. It is as though the PhD became a disqualification or something, because other institutions have done exactly the same thing, advertising positions that turn out to be not quite as open as one might have thought, and awarding them to people who – well, to other people.
Then again, prior to the most recent advertisement, I had been invited by the institution in question to examine a PhD thesis that was so miserable, so poorly conceived and executed, as to make me despair at what was apparently going on at the graduate level. My report reflected my feelings, as I believe any honest report I write must, and I endeavoured to make clear that I should have the work resubmitted somewhere down the line, following further research and wholesale revision.
I found out however that the thesis had been accepted, when I discovered it was in the university library. This perplexed me no end, but carried a diminished measure of surprise since despite having asked to be kept informed of developments I had been told absolutely nothing further subsequent to my submitting my report.
Things aren't getting any better for education in Australia, most likely since to educate your polity invites the risk of having it exercise its increased wisdom in the interests of improving matters, and in the process coming to understand what you've been up to – and getting rid of you. And besides, if the government offers money to schools for the completion of degrees, who wouldn't want to hurry candidates through to completion? Elsewhere I've hinted at some of the unfortunate consequences of corner- (read cost-) cutting strategies in jazz education, and, well, I guess I shall have to lie down in the grave I've dug and accept that I don't fit with the decision-makers and the program-developers, and as such it's very unlikely they'll come knocking on my door. But to my last hour I shall declare that I don't see how pretending we're all Americans and going along with whatever is broadcast most resonantly from the States about The Jazz Tradition (and by implication our obligation thereunto) is going to assist us in articulating our own place in the scheme of things, the nature and consequence of our experience, the particular variations to acquaintance and accommodation that have occurred throughout the briefer history of Australian jazz, or any concepts we might have about the future.
In the shorter term, I'm composing the music for another Salon concert, this one in October with a double trio: piano, bass, drums, violin, viola and cello. Things are progressing, fitfully; when they seem to be going smoothly I'm happy enough but I couldn't say I'm overburdened with confidence about anything I ever produce so there is that residual feeling of being at the mercy of something I can neither control nor even name.
Usually I link to these things on Facebook and/or the abominable Twitter, but I'm not doing that this time. It'd be interesting to know if anyone found it despite my not making a noise. Leave a comment if you like, and break up the spam. Since I'm only really whining and this is in no way honorable it's probably not worth making any sound at all. But this is how it stands. Çe soir.
24/vi/2014