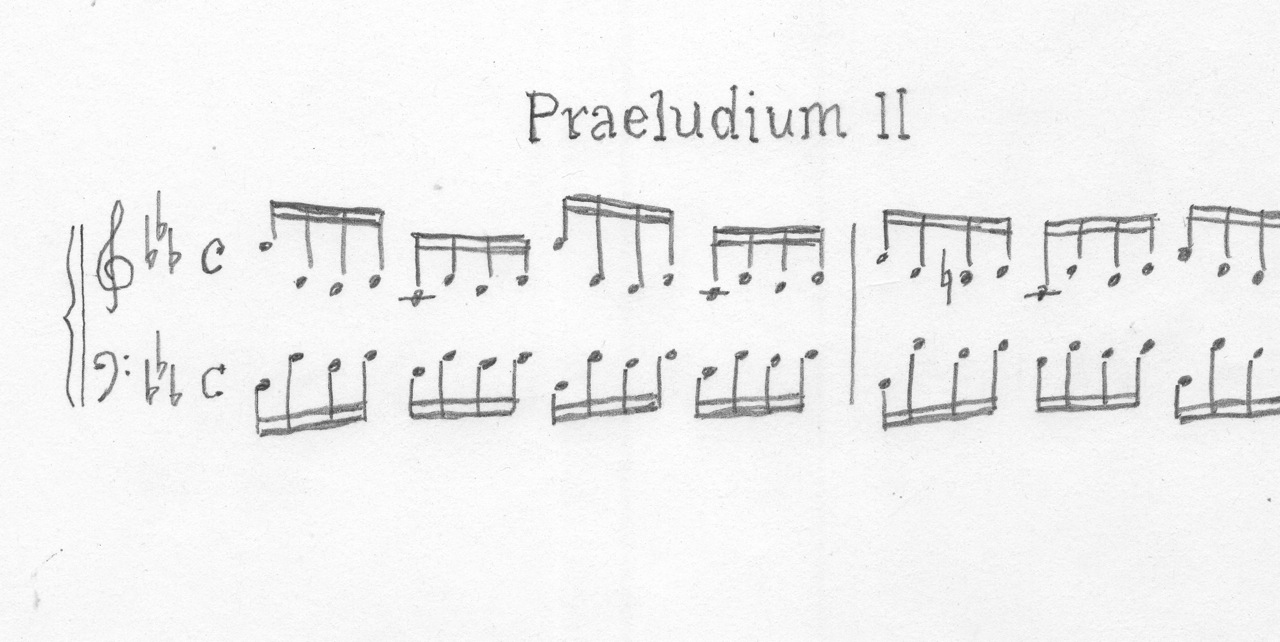 Because life is pretty miserable, and just about everything you can see is motivated by greed or self-interest or indefensible fear of the different, because we fight with our children and because friends disappoint and because we ourselves fail to make the greater effort, because once all that is put aside we have to front up and vote for clowns who tell us lies and spy on us and sell our stuff, because people just won't try to be a bit friendlier and to show some interest in each other, and in actual fact just because I'm fed up, here's something towards a small matter that I might be able to help put right. My harmony manifesto. Not that most of it hasn't been said before, but since this might be a way people can access it who mightn't otherwise, and because the internet seems to have replaced the library, with most of the good harmony books, as far as I'm aware, not freely available online – here goes.
This is cast as one of those old-style conversations, you know, like Fux's Gradus ad Parnassum? Why not. It concerns the Prelude and Fugue in C minor, BWV 847, from book one of Das Wohtemperierte Klavier, by Johann Sebastian Bach. Specifically, the Prelude.
The teacher – let's call him 'Timmy': So you've brought in your harmonic analysis. Let's take a look.
The student: I was confused. I haven't done this before.
Timmy: Okay, well you learn by doing. Show us.
Student: Here it is. I'm not sure about some of the chords.
Timmy: Ah. The second prelude and fugue. Good choice.
Student: You told me to do it.
Timmy: Of course. I was just joking.
Student: Because –
Timmy: Look, it's okay. Now what have we got here? Some pretty crunchy chord symbols.
Student: Well it's really hard to make sense with so many notes.
Timmy: Yeah? Let's have a look. C minor 9 in the first bar. Okay; what's the 9 for?
Student: It's the D.
Timmy: Yeah, I know. But why didn't you write 11? There's an F too.
Student: Is there? I –
Timmy: It's in the left hand.
Student: Oh, okay. So should I have written C minor 11?
Timmy: No. At least, I wouldn't. What do the 9 and the 11 mean?
Student: They're extensions.
Timmy: Yes. But what are they for? What do they do?
Student: I don't really know.
Timmy: When you're improvising, do you use them?
Student: Yeah, I think so.
Timmy: Why?
Student: I learnt these voicings…
Timmy: Right-o. No other reason?
Student: I don't think so.
Timmy: All right; well, the second bar. What's that?
Student: That's C too, but it's got the flattened 6th and also a major third so I don't really know what to call it. Is there a name for major with the flattened 6th?
Timmy: Well you might say augmented, if you treated it enharmonically –
Student: What?
Timmy: If you made the A-flat a G-sharp. But does it sound augmented?
Student: I don't know.
Timmy: Listen. [Plays first two bars slowly] What do you hear?
Student: It's definitely C minor in the first bar.
Timmy: Good. And the second?
Student: Maybe, I'm not sure.
Timmy: No, I mean, what about the second?
Student: I don't think it's augmented.
Timmy: Ace. It isn't. But what is it?
Student: If C's in the bass…
Timmy: That could be just for consistency. Let's flick back to the first Prelude. What's happening here? [Plays the opening two bars of the Prelude BWV 846]
Student: Hey, that's the same!
Timmy: Uh-huh. What would you call that chord in bar 2?
Student: Well it looks like D minor, with C in the bass.
Timmy: Otherwise greeted as D minor seventh, your common or garden variety ii chord. And in bar three we see the dominant seventh, and then by bar four we're back at I. The lowest voice is economical, employing inversions so as to keep things local. The composer introduces you to the tonality. First gesture in oh so many pieces of music prior to, maybe, Beethoven's first symphony, where he tried to trick you.
Student: Yeah?
Timmy: Yeah. But back to the second prelude, what do you hear happening in the first few bars?
Student: What do you mean?
Timmy: Well, what's happening in bar four?
Student: It looks a bit like bar one.
Timmy: What's different?
Student: The hands are swapped, sort of.
Timmy: Right, so you'd say it was the same chord as bar one?
Student: Probably, yeah.
Timmy: Okay, listen to them again. [Plays first four bars]
Student: I reckon they're the same.
Timmy: I reckon that too. So what do you know?
Student: Huh?
Timmy: What has the composer done?
Student: Gone out and come back.
Timmy: Right. So what would you call these chords in bars two and three now?
Student: Bar three is probably a V, and bar two is a –
Timmy: Go on –
Student: Well I don't think it's a ii
Timmy: Fair enough. But you're on the right track. Forget the E-natural and the G, and what's left?
Student: C, A-flat, F
Timmy: And that's –
Student: F minor over C.
Timmy: Correct. Although we'll simplify things and just call it F minor. It's inverted, but it's F minor.
Student: So i iv V i.
Timmy: That's it. And what are all these other notes doing?
Student: Are they chromatic passing tones?
Timmy: Perhaps; are they all chromatic? One of them is, I suppose – the E-natural. But what does a passing tone do?
Student: Goes between?
Timmy: Yep, and it's a term primarily relevant to melodic constructions, which are not so much the deal here. This is more of a pattern-type thing, and while there is melodic content, it's to be inferred if you like from the midst of the motoric texture.
Student: So that's not a melody?
Timmy: Well, can you sing it? I mean, would you? And if you did –
Student: No, probably not.
Timmy: But because the music perceptively moves from one place to another, there is some kind of voice-leading going on. There are melodies, but they're concealed, if you know what I mean. This is how the harmony works. It's a consequence of line.
Student: Hang on. You'll have to go back there. It's too fast.
Timmy: You heard the thing start out from C minor, and work through F minor and G seventh back to C minor. The i iv V i you articulated. Those chords are clear when you look at what happens on each beat as the piece goes along: Bar 1: C and E-flat; bar 2: C, F, and A-flat; bar 3: C in the bass for the continuity, but otherwise D, F and B. Including as it does the tritone, this last chord is unquestionably a V7 affair. So Bach exploits the pulse, or the beat if you like, to explicate his chordal structure. You see?
Student: Yes, I see that.
Timmy: Good. Now if you look at each half-beat, what's happening on the quavers, you see something else. In the first bar, on the and of one, and the two, and the and of two, you have sixths: D and F, then E-flat and G, then D and F again. If you play them together, isolated –
Student: [plays] They're going back and forth
Timmy: Yep. Colouring the tonic. Imagine, or even try it out, if you just had C and G and E-flat in that first bar. Replace what's on the and of one and the and of two with E-flat and C.
Student: [plays, laughs] Boring!
Timmy: Well, yeah. Sitting still. Took 'em till the mid twentieth century to come up with that.
Student: What do you mean?
Timmy: Minimalists? Never mind. Look at the second bar, what's the E-natural doing?
Student: Decorating an F?
Timmy: Decorating. A good word. Look at how much of the bar is E-natural and G, and how much is everything else.
Student: Ah, yeah. It's almost all F minor.
Timmy: Now all these chords you've written over C, or even as C chords, do you think they're going to bear close examination?
Student: I'm starting to doubt it.
Timmy: Okay, well you can reinvestigate it when you get home. (Think: 'tonic pedal'.) But what do you think the really important thing is here?
Student: Not every note needs to be represented in the chord symbol?
Timmy: Damn' right. You know in the old real book, that's one of the things that really bugs me. The ninth is in the song melody, right, so they write a 9 on the end of the chord symbol. Which is, strictly speaking, true for the head, but what happens then is that these well-meaning young folks come along, learn the tune from the real book (which is bad enough) and then play a ninth chord every time they go through the form. This literalism is just so unimprovisatory.
Student: You sound like such a scholar.
Timmy: Just then, I was trying to. With a cheek full of tongue. Anyway, always be after the bigger picture.
Student: I think I just looked at every bar too individually.
Timmy: I know you did. If not every note.
Student: Okay, okay. But I haven't done it before.
Timmy: Shame that. But look, it's never too late. There's a trap in limiting yourself to looking at the score. Remember always to hear the music you're studying. Really listen to it. Ask yourself where you're hearing tension, where you're hearing resolution. How is the feeling of momentum established and maintained? Pay attention to the music's dimensions – how long certain things are permitted to go on. Is there balance? How is this achieved? Listen for the lines even when they're in the middle of what's going on. Good interior voice leading is the foundation of most of the music that sounds any good, if you ask me. A fabulous melody not supported by good stuff beneath (or around) is suddenly not as fabulous. Check out down here, after bar 15. Look at the colour he's created through this passage. What's in bar 15?
Student: Oh, E-flat, F, A – F over E-flat?
Timmy: Okay. What's that?
Student: F seventh?
Timmy: Yeah, and?
Student: A dominant chord?
Timmy: Dominant of what?
Student: B-flat.
Timmy: In isolation, it could look like that. But does he go to B-flat?
Student: Um, no.
Timmy: What happens?
Student: Well if you look at that bar, it might have been going to go to B-flat
Timmy: Initially, yes. Well spotted. But what stops it?
Student: B-natural.
Timmy: Hmm. Confounding indeed. So what does it turn out to be?
Student: D diminished maybe?
Timmy: Ah. Diminished. Yuck. I mean yes, in a sense, but diminished is almost always shorthand for something else. What's in a diminished chord?
Student: Minor thirds.
Timmy: Right. And when you pile minor thirds on top of each other, what do you get? I mean apart from a diminished chord?
Student: I don't know, tritones?
Timmy: Exactly. Where else do you find a tritone?
Student: In a dominant seventh chord?
Timmy: Precisely. That most dissonant, ugliest, most desperately in need of resolution horror, the tritone. And put a flat nine on your dominant seventh, then whip the root away, and you've got –
Student: A diminished chord.
Timmy: So. Bar 16?
Student: G7?
Timmy: Well, functioning as such. But Bach, a clever bastard, doesn't simply resolve to the tonic, does he.
Student: Not there, no.
Timmy: No, in fact bar 17 has many of the elements of bar 16 –
Student: The right hand is exactly the same.
Timmy: It is indeed. But the left differs beautifully. Now what, if you had to reduce this bar to a chord symbol, could you possibly say about this?
Student: I have no idea.
Timmy: I see you've scribbled a few things but left room for doubt.
Student: Forget about all that.
Timmy: Okay. The second and the fourth beats are the same as the previous bar, so all the difference is in the first and third, and as I say, in the left hand. 1 and 3 are the strongest beats in the bar, so they'll tell you something important. The C is a step down from the D of the previous bar. So basically he's changing the quality of the dominant chord, suspending it if you like; this is almost like fourth species counterpoint – do you remember? – where the parts move out of phase with each other? One thing is preserved while the other changes? I mean it's not exactly as strict as that but it's the same sort of vibe.
Student: I'd have to look at that again.
Timmy: We may go back to it at some stage. But imagine you had D half-diminished, right, then you kept the right hand the same and dropped the left to a C, it's strongly suggestive, right?
Student: Keep it going down and get G7 over B.
Timmy: Exactly. Seems to follow. Bach doesn't do that, though.
Student: Bastard.
Timmy: Well, we'll see in a tick. But what's with this E-natural in bar 17?
Student: That makes no sense.
Timmy: It makes no sense on paper, perhaps. It makes no sense if you're trying to generate a chord symbol to reduce what's happening. But doesn't it sound spectacular?
Student: I think it does. I just wish I knew why.
Timmy: Let's try it as a flat. [Plays]
Student: It works, but –
Timmy: It's not so interesting. It sits stiller, it doesn't surprise. The E-natural –
Student: Colour, I guess?
Timmy: Colour, yes. Character. And also a little voice-lead towards F, which is odd when it is already so present in the bar, or even towards the E-flat in the next bar. Because bar 18 –
Student: – seems to be some kind of resolution.
Timmy: A very temporary one, yes. And how do you know it's temporary?
Student: Because it lasts for one bar?
Timmy: True, it does, but I think maybe there's something else.
Student: The second beat! It's like a sus 4.
Timmy: Okay, yeah. It's not totally resolved. He's keeping reservations. (Is that what I mean? He's staying reserved. He's not entirely committed.)
Student: And then it keeps going.
Timmy: It does. The real resolution doesn't come until right at the end – he has a fabulous capacity to keep you interested, to keep you guessing, to keep you suspended.
Student: I really need to do more of this.
Timmy: I hope you will. But when you do, try not to be too reductionist, or to be seeing things in isolation. One of the things that drives me bonkers in jazz education today is this tendency to get kids to play all sorts of synthetic scales as though this were going to be sufficient to constitute improvising vocabulary, like once you saw the chord symbol you'd have the row of notes ready to go for as long as the chord lasted. This to me is just moronic. 'Chord-scale relationships,' they intone, thinking of this as more of an end than a way.
Student: A lot of people do that.
Timmy: I know. But do you think Bach did that?
Student: I'll say no.
Timmy: Good. Because what motivated his music? The sung line, and the dance. IMHO.
Student: [giggles]
Timmy: Is there any reason why your improvisation should not be motivated by the sung line and the dance?
Student: No.
Timmy: No. None at all. And the greater freedom you have when singing your line, the better. But freedom comes from having a choice, which comes from knowing that there are a couple of options, which comes from having thought things out from a couple of different points of view.
Student: I've gotta go. I've a business lecture.
Timmy: Some people have all the luck. See you next week.
5/iv/2014