There'll be some changes played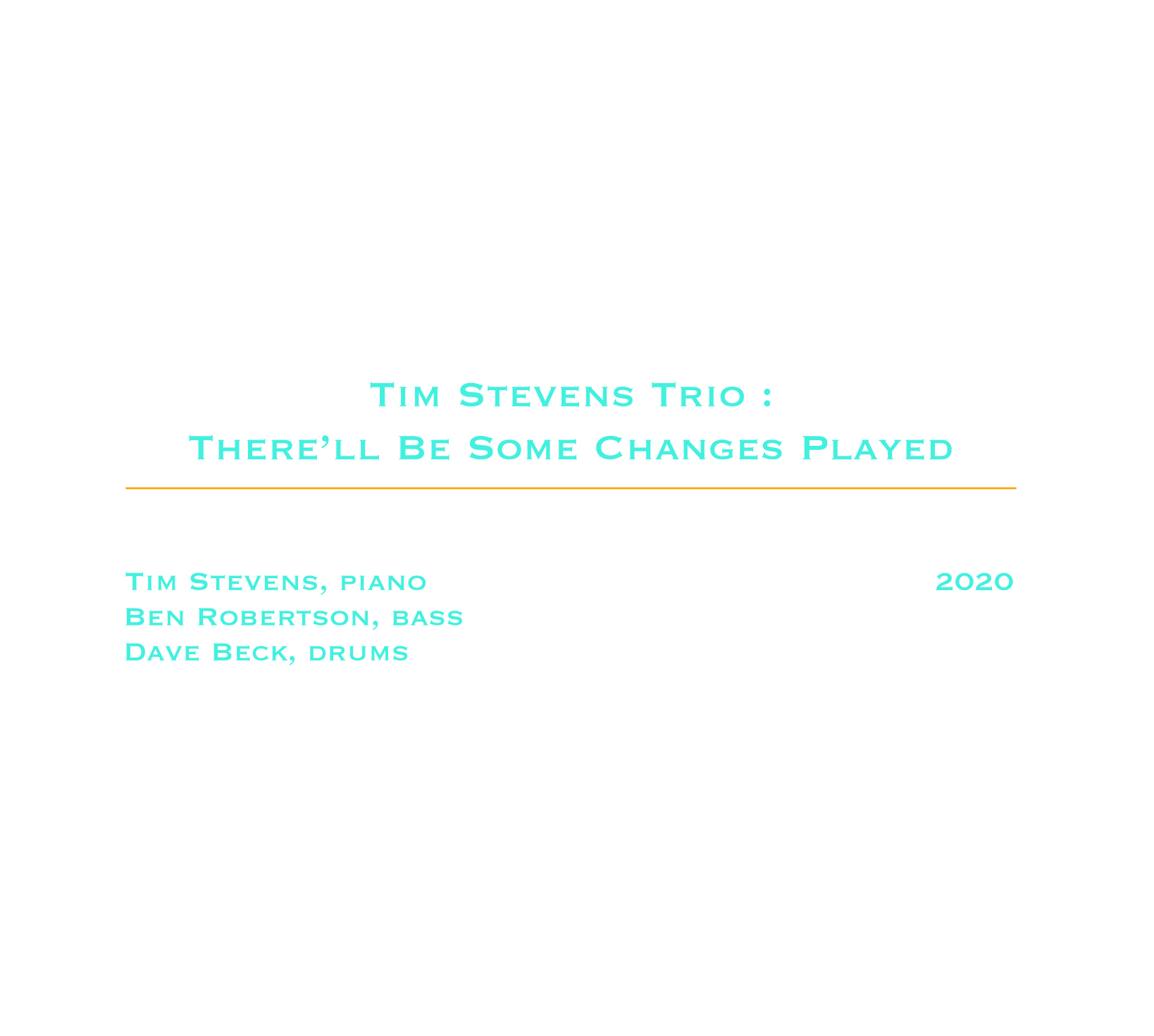 Personnel
Tim Stevens, piano
Ben Robertson, double bass
Dave Beck, drums
The Trio's fifth album, There'll be some changes played comprises original tunes all composed in that hyper-busy year of 2016. It was recorded by Chris Lawson at the ABC Studios, Southbank, shortly before everything went bananas and we had to stay home. Here is the wickedly arrogant press release, written by someone with too much time.
Tim Stevens Trio: There'll be some changes played
This is the fifth album from pianist Tim Stevens's trio with Ben Robertson (bass) and Dave Beck (drums). The band's focus on original creative music is as strong as ever, and the ten selections were composed by Stevens during the very busy year of 2016.
The group has never sounded better, demonstrating the profound trust that has been developed throughout its fifteen-year history. The listening and communication between the players make the music infectious and rewarding, and each distinctive member makes personal statements that are supported and amplified by his colleagues' contributions.
Listen to 'Australian kakistocracy', where the lamentable state of our national parliament* is reflected in troubled, complex and vaguely catastrophic music that gives way suddenly to dreams 'of foreign lands and peoples'. Hear the unusual construction of 'The new usual' with its three-bar phrases and the bass and piano trading sixes with the drums. Exquisite ballads don't come much better than 'Most miraculous accident', and there are two other slowies on the album too. Stevens's signature command of harmony generates tunes that are highly original but never difficult to follow. 'Little kids holding hands', with its melody in the bass and freely improvised 'solo' section, is a case in point.
The title There'll be some changes played parodies the old song 'There'll be some changes made.' Changes – chord changes – are a big part of this band's profile, and of Tim's compositions. Playing changes is something they've been working on all along, and some of Tim's tunes are notorious for the challenging chord changes they present to the player. Ben's chart for 'Australian kakistocracy' says at the top, in Ben's handwriting, 'Harmony doesn't settle!' But the challenges are met with style by this capable band.
There'll be some changes played is self-released, and available primarily through timstevensmusic.bandcamp.com. Also through Birdland Records (Sydney) or Basement Discs (Melbourne)
*Tim's opinion only.
Furthermore you can cop Eric Myers's review, from The Weekend Australian (20.ii.21):
'One of the qualities I most admire in a jazz group is nonchalance. I don't hear it much in today's albums, as it is often overridden by other forces in the music. Occasionally an album comes along where, as the music unfolds, I feel that the musicians are not trying to make it happen; they are allowing it to happen, and have surrendered themselves to the music. This is so with the brilliant trio led by Melbourne pianist Tim Stevens, which handles all time-feels with aplomb. Perhaps this is because he, Ben Robertson (bass) and Dave Beck (drums) have been together for 15 years and an intuitive trust unites them. No-one is trying to impress; no-one is trying too hard. The result is an outstanding album, a masterly exploration of ten beautiful Stevens compositions.'
The recording is self-released, and available as below.
Listen and Buy