Scare Quotes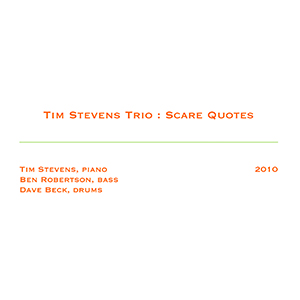 Personnel
Tim Stevens, Piano
Ben Robertson, Bass
Dave Beck, Drums
Chris Lawson recorded Scare quotes at ABC Studios Southbank on 30 June 2010. This was the first time we'd done an album in a single day. We mixed new compositions with free improvisations, the intention being to demonstrate a continuity between the two. We'd always been on about that, of course, but this was the first time the two approaches had been in balance. Shorter free pieces were set alongside head-solos-head tunes, and the album begins with a piece that was recorded in the manner of a sound-check, before Ben had arrived at the studio. (I heard the playback and knew I was going to use it.)
Roger Mitchell writes, in the Sunday Herald Sun (10 Apr 2011):
'Moving almost imperceptibly between the frisson of collective improvisations and the cures of composition, this fourth "white album" with Stevens on piano, Ben Robertson on bass and Dave Beck on drum kit is akin to the freedom of 2005's Three Friends in Winter.
'Yet this outing, recorded in a day at ABC Studios, Southbank, last year, is more compelling. Textures are tangible, timbres and tempos vary and the trio's intuitive ability to build and sustain tension, focus and hold our attention never wavers. Whether from the gripping Wiseband and Huff, the delicate piano insistence and fine drum spatters of Dances With Jimmy or the bass melodies in Letters, Diaries, it is clear there is no need for scare quotes here.'
You want iTunes? Go forth: Scare Quotes – Tim Stevens Trio – else go for the tangibles below.
Listen and Buy