Mickets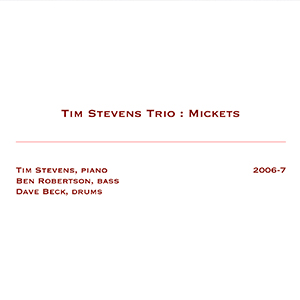 Personnel
Tim Stevens, Piano
Ben Robertson, Bass
Dave Beck, Drums
Mickets, the trio's third album, is one of very few jazz albums worldwide to have sampled the French pipe organ tradition for repertoire. Up until this point the trio had recorded no music not either written by myself or improvised collectively, and it didn't seem convincing to plonk a Tin Pan Alley item suddenly alongside the original repertoire that had come to identify the group. Truth be told, the idea was never seriously entertained. Jehan Alain's Litanies however is a far deeper point of connection for me than anything out of the Real Book and although its origins and its customary performance context are far removed from the remainder of the trio's repertoire, a) because I like it and b) for the sake of making a point about personal musical memory and identity I transcribed it for the trio and we used it to conclude the album. Someone likened it to Jacques Loussier's efforts with J. S. Bach, but this was not a terribly enlightened perspective and didn't really make a great deal of sense if one understood what Loussier had actually been up to.
In any case, the remainder of the album was new original tunes and one of the curlier ones can be seen on the 'Compositions' page. Here's what Adrian Jackson had to say in Limelight (Aug 2008):
'[Stevens] has a lovely touch, a melody-aware approach to improvising, and for all his fluency, tends to edit out any superfluous gestures in his solos. He is fortunate in his choice of trio partners, having worked with bassist Ben Robertson and drummer Dave Beck for some six years now.
'This is their third album, and while their last featured free improvisation, this one returns to examining Stevens' attractive compositions. These three are highly compatible musicians, who can achieve a conversational flow in their performances.'
Here's an iTunes link, or you can find solid, old-fashioned but thoroughly serviceable CDs below.
Listen and Buy