The beauty of the way and the goodness of the wayfarers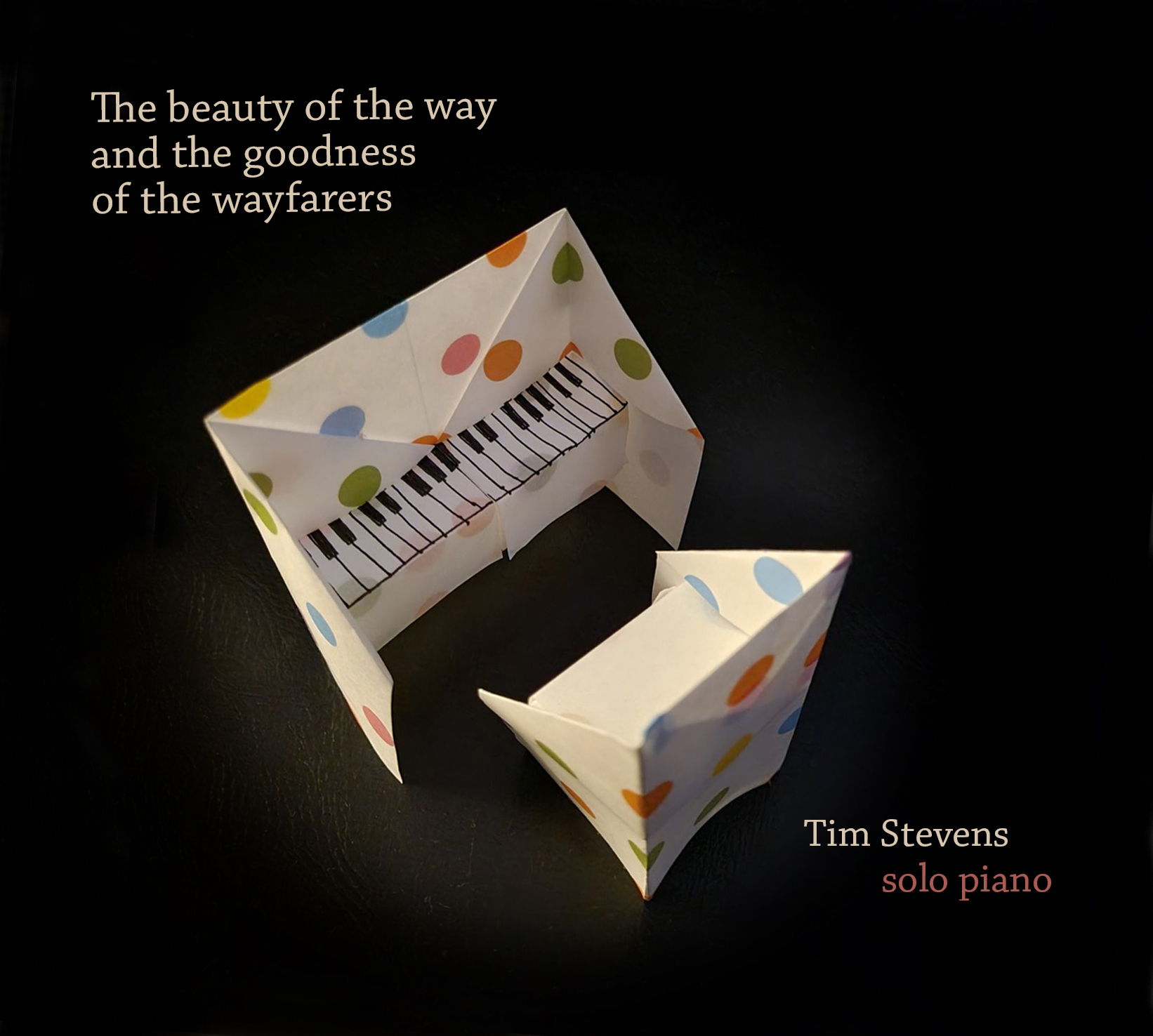 Personnel
Tim Stevens, piano
The seventh solo album from Tim, and a digital-only release. Almost entirely original compositions, with two free improvisations and a standard to wind things up.
The waffly press release follows.
Tim Stevens: The beauty of the way and the goodness of the wayfarers
Tim Stevens has now recorded seven solo piano albums and this latest instalment comprises nine original compositions, two free improvisations and a standard tune to conclude. The beauty of the way and the goodness of the wayfarers was recorded at Rolling Stock Recording Rooms by Myles Mumford on February 3 this year, and most of the originals come from the one-a-day year of 2016. Some are much older, but the blend of pieces is true to Tim's creative aesthetic, trying never to repeat himself but always to generate a variety that is unified by style.
This set kicks off slowly, with 'Well, I mostly hide'. The mood created here is distinctive, and may lead you to replay the first track in the manner of a sonata form exposition. Go ahead! Because what follows complements it superbly, located in the major key of its minor, and displaying a far more flexible harmonic orientation, with lightness to contrast. Tim's training in classical music is brought to bear on the sound he draws from the instrument, and his affection for improvisation comes from a similar source. He knows feeling, so he isn't afraid to get to the midst of the heart's wonderings as he goes. 'The vault' is in his trademark ballad style, and 'The new ships' demonstrates his melodic flexibility and buoyancy. Most of the tunes on the album come from the prodigious year of 2016, although two, 'Cocktails before noon' and 'This quiet life' are over twenty years old.
Two pieces on this recording have been presented previously: 'This quiet life' by Browne – Haywood – Stevens on an album celebrating 40 years of Jazztrack on ABC Classic, and 'The unmistaken' on Tim's current trio's first album, Nine open questions. The versions here testify to the tunes' longevity and capacity to change as they continue. The free pieces demonstrate Tim's interest in spontaneous form, and contrast from one another most effectively. And the Gershwin, to finish, is an unsentimental reading of one of the most stunningly beautiful melodies from the standard repertoire.
The album is digital only, and available through timstevensmusic.bandcamp.com
Listen and Buy