Life's undertow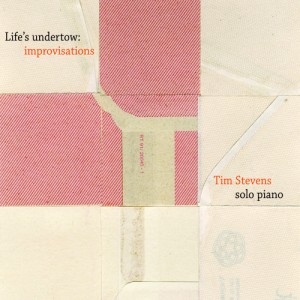 Personnel
Tim Stevens, piano
Life's undertow, recorded on November 25, 2011 at Studios 301 in Sydney, is a programme of spontaneous improvisations for solo piano. Over the course of the day I recorded thirty-seven pieces, six of which were not freely improvised. One of these was by Robert Schumann, and one was 'With a song in my heart', which can still be found over at SoundCloud if you feel disposed to check it out. The aim however was to produce an entirely improvised record, and that's what happened in the end. An overall shape to the album has been noted: it is bookended by waltzes, the first of which is in D minor, the second in F major. The first and second halves of the record begin with pivot-tone pieces, situated a tritone apart. The fifth selection – the last in the first half – actually concludes with a gesture that moves from D, via F-sharp, to A-flat. None of this was planned, of course, it was all merely luck. Making the record was a tremendously rewarding and enjoyable experience. I'm very fond of Sydney so it was great to be there. The album came about as a result of my winning a Professional Development Award from the Australasian Performing Right Association in 2011. That was another astonishing experience.
Andrew Ford's opinion of the recording can be found here, but in the meantime here's an excerpt:
'It strikes me as one of the most original and radical recordings of improvised jazz I have heard. So if I tell you that it sounds neither especially improvised nor very much like jazz, that is not intended as a criticism, more an indication of just how original and radical it is.
'Life's Undertow: Improvisations (Rufus Records RF108) doesn't sound improvised because there is a harmonic cogency that, in the faster and more dissonant pieces, seems quite remarkable. It is one thing to improvise a slow, tonal piece and have it all hang together, and obviously it is a comparatively straightforward matter to improvise on the template of a blues or a standard (I don't say it is easy to do well or with originality). For that matter, it is perfectly possible to blast your way through a fierce, fast, free-jazz explosion of sound and get by with a heady mix of gesture and energy – the notes don't have to add up. But Stevens's music on this disc is different.
'With barely a blue note in ear shot and scarcely a phrase that might count as swing, the music makes regular recourse to a harmonic language that seems to belong to composers such as Bartók and Hindemith, the latter's Ludus Tonalis coming to mind each time I listen. The textures are spare, almost always in two parts, and in a piece such as "The Line's Tension" there are passages of genuine, functional counterpoint. Writing good counterpoint – where two (or more) lines of music intelligently coexist – is tricky enough, but making it up as you go along is impressive.'
iTunes is your digital friend – or you can grab the hard copy below. (Bandcamp with download also)
Listen and Buy